DOUTHITT Heavy Duty Elevating & Revolving
Model Vacuum Frame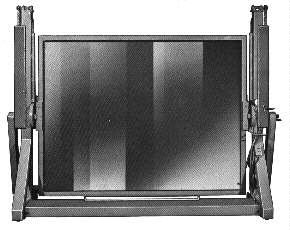 Elevating & Revolving
Douthitt Heavy Duty Elevating & Revolving Model Vacuum Frame unit is complete with:
Douthitt's OPTION "X" Vacuum System. OPTION "X" gives you the fastest, most consistent overall contact and the best registration. For details see Option "X"

Revolves 360 degrees through Gyrotory Axis which Elevates, Lowers, Locks and Turns in single sweeping effortless action.

Can be elevated with glass up or down.

Minimizes time spent in cleaning of glass.

Inspection Light (Gold Fluorescent) mounted in base.

Spring Loaded Back is furnished on the blanket frame allowing any heights register pins on top or thru register boards.

Heavy Duty Universal Blanket.

Heavy Duty Pump, Motor and Vacuum Gauge.

Optic clear A-1 Select Glass

Floor type adjustable leveling screws.

All heavy gauge steel welded construction.

Unit finished in easy to clean, long wearing Epoxy Enamel.
Exposure Lamps, Bulbs, and Misc.
Printing Lamps and Replacement Bulbs
Light Integrators
Replacement Vacuum Blankets for any Frame
Regristration Boards and Insert Mats
Model 26 Silent Air Pump for any Frame
---

Back To Home Page