Model Taurus Exposure System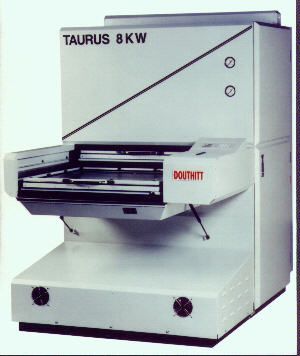 Model Taurus
The Taurus Features Include:
Designed for fast exposure of all image resists for printed circuits (inner layer, outer layer, & solder mask), photochemical machining substrates, and displays - using dry film or liquid photoimageables.
Double and single-sided exposure of materials.
Built for high production applications and continuous duty.
Cabinet: Welded heavy gauge steel construction. Two full length hinge doors for easy access.
Lamps: Two each metal halide. Air cooled ozone-free quartz.
Uniformity: ±10% C.A.D reflectors.
Cooling: 8,000 BTU/hr. air conditioning system is integrated into the cabinet, with condenser mounted in back. Turbo fans direct cool air during exposure and loading. Available with heat exchanger in lieu of air conditioner.
Chases: Mylar frame and glass frame can be quickly removed from the main frame carrier.Optional glass to glass precision alignment registration system available.
Chase Drives: Heavy duty gear track and precision steel bearings. Accelerating/decelerating direct drive motor.
Contact System: Exclusive vacuum system that offers the fastest contact. No manual latching, simply close the frame.
Electrical: 5kW - 208-240 volt, 50/60 hz, single phase, 60 amps. Three phase, 45 amps. 8kW - 208-240 volt, 50/60 hz, 70 amps, three phase.
Controls: State of the art Electronic light integrator with LED display and precision accuracy. All controls are conveniently located for easy use.
---

Back to Home Page