Stainless Steel Developing Sinks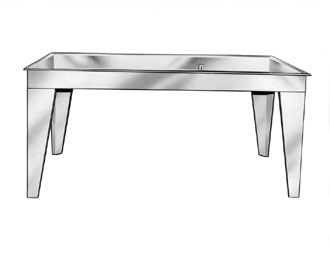 PRICE INCLUDES:
Type 316 heavy gauge Stainless Steel throughout.
Heliarc welding fuses the metal into one.
1½ inch stainless steel removable standpipe.
1½ inch drain located in center – rear of sink (Customer can specify alternate location – No extra charge).
Floor type adjustable leveling screws (Cadmium Plated).

Depth of Sink – 6 inches.

Special Sizes and Special Depths – Prices on request
OPTIONAL ACCESSORIES:
Sink may be separated into compartments by means of watertight stainless steel dividers and extra drains.
Precision Powers automatic water regulator, complete with copper tubing extension.
Any sink can be ordered without legs.

---

Return to Home Page